Many people are learning the importance of real estate and are starting to invest in properties more and more. With this trend going steady, the construction industry is seeing an increase in demand for its services. That's why aspiring entrepreneurs are eyeing this path as a potential avenue for starting their careers.
It's not a secret that construction is an expensive business, and buying the right gear is a necessary investment for growth. But what are the essential items to invest in? What tools do you need to get started? Here are some vital elements of a construction business:
Parking Space
One of the most important investments for any construction business is parking space. It might seem like a trivial investment, but it's not. Construction projects can often take up a lot of space, and leaving your vehicles and equipment out on the street can be a significant safety hazard. Not to mention, it will also quickly rack up parking tickets.
So, make sure to secure a good space for your business as soon as possible. You don't want to be scrambling for a spot when things are in full swing.
You can start by looking into industrial areas and business parks. These usually have designated parking spaces for businesses like yours.
Heavy Machinery
Construction projects require a lot of heavy machinery. From bulldozers to cranes, every piece of equipment can be extremely costly. That's why it's essential to invest in quality machines that will last you for years.
Be sure to do your research before buying any heavy machinery. There are a lot of scams and shady dealers in the construction industry, so be vigilant.
Once you have your machines, make sure to maintain them properly. A broken machine can halt all progress on a project, so it's essential to have a backup plan.
Equipment and Machine Protection
You're aware that construction can be a dangerous job. Well, that danger extends to your equipment as well. Machinery can easily be damaged if it's not adequately protected.
That's why it's essential to invest in quality job site damage-protection products. These accessories will keep your machines safe from the everyday wear and tear of construction work.
There are many types of protection products, such as tire socks, chocks, and skid plates. So be sure to do your research and find the right one for your needs.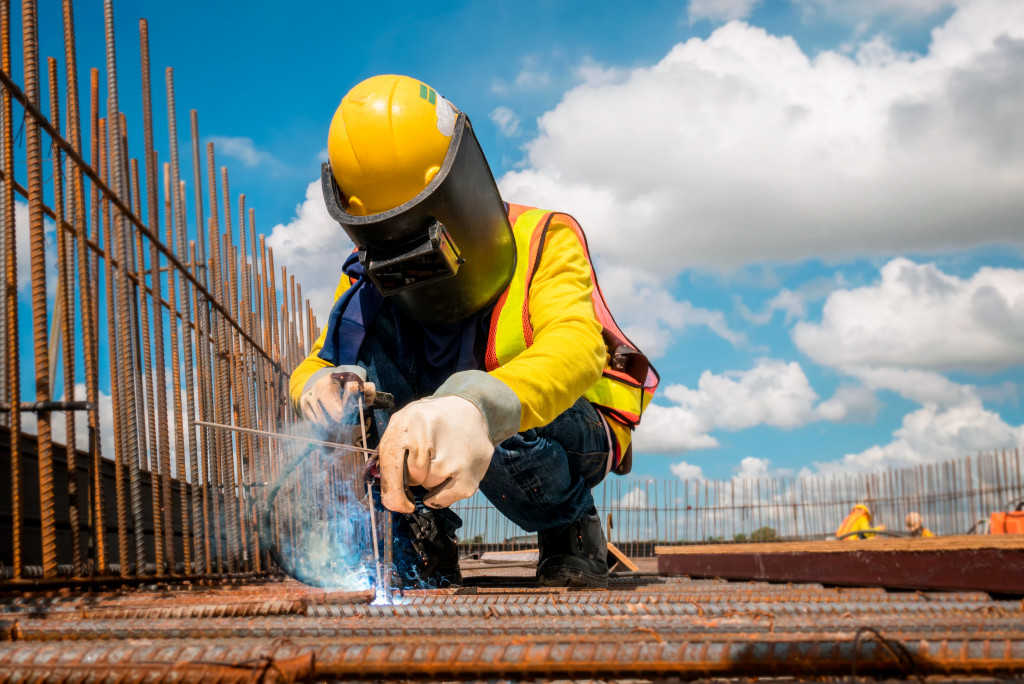 Safety Gear
As a construction business owner, it's your responsibility to ensure the safety of your employees. That means providing them with the proper safety gear. From hard hats to steel-toe boots, you need to have many types of safety gear on hand.
It's also essential to enforce a safety policy and make sure your employees are familiar with it. Doing so will help to prevent accidents from happening on the job site.
You might also need significant certifications from the regulatory body in your jurisdiction. Make sure to familiarize yourself with the requirements so you can meet them.
Insurance
Almost all businesses need insurance, and construction is no exception. Construction businesses need a few specific types of insurance.
One of the most important is workers' compensation insurance. This policy covers medical expenses and lost wages for employees injured on the job. It's a requirement in most jurisdictions, so be sure to have it in place before you start hiring employees.
Another necessary type of insurance is general liability insurance. This policy protects your business from lawsuits resulting from accidents or property damage. It's a good idea to have this policy, especially if you're working with expensive equipment.
Aside from these two types of insurance, there are other policies that you might need. It's best to consult with an insurance broker to determine what policies are right for your business.
Employees
Last but not least, you need employees to run your construction business. It's essential to take your time to find the right employees. They will be the backbone of your business, so you want to make sure you get it right.
There are many things to consider when hiring employees. One of the most important is their experience and qualifications. Be sure to ask for resumes and references so you can verify their credentials.
Another thing to consider is their attitude. You want employees who are motivated and willing to work hard. They should also be able to work well in a team environment.
Construction is a booming industry, and there's no sign of slowing down. That's why now is a great time to start a construction business. But, like any other business, it takes capital to get started.
There are many investments you can make in your construction business. The most important are equipment, machine protection, safety gear, insurance, and employees. Be sure to research your options and make the necessary investments to ensure the success of your business.