A healthcare facility is where patients visit to get treatment for their injuries or illnesses. Thus, they are places where everyone should feel safe and secure. However, many healthcare facilities are unfortunately besieged by activities of carelessness that threaten the lives and safety of everyone in them.
There are many reasons why safety becomes compromised in our healthcare facilities. It is the responsibility of all healthcare professionals to ensure that they practice their profession in a way that does not put patients at risk. One of the strategies to accomplish this goal is to improve safety within their surroundings.
The following are practices and procedures that healthcare professionals can undertake to ensure safety in their workplace:
Routine Inspection
Inspecting all areas of our healthcare facilities helps us identify what parts need maintenance, renovation, or complete replacement.
We can also inspect our facilities for fire hazards or electrical problems from time to time. It is important to regularly review guidelines about inspections to have a reliable reference.
Improve the Structure of the Facilities
After a thorough inspection, it's best to make an effort to improve the structural basis of the facilities.
For example, we can maintain and repair the foundation and other parts that may be weak or deteriorated. We can also strengthen original structures according to our needs and specifications.
If you want your establishment to last for a long time, it's best to consider high-quality materials. Your floors should be made following the quality of pharmaceutical flooring, and your walls should be made of materials that can efficiently and effectively prevent the spread of infection.
Maintenance of Heating, Ventilation, and Air Conditioning System
Our healthcare facilities regulate temperature using air conditioners, heating units, ventilation systems, and many more. All these devices play a huge role in helping patients stay comfortable and recover from their injuries or illnesses. Thus, they should be kept well-maintained to ensure they work all the time properly.
A broken ventilation system can lead to patient discomfort and irritable medical staff. Improper airflow can expose someone to inhaled poisons and chemical gasses. Equipment can get damaged in rooms with a lack of proper temperature requirements, making it hard for technicians to diagnose problems.
Purchase of Safer Equipment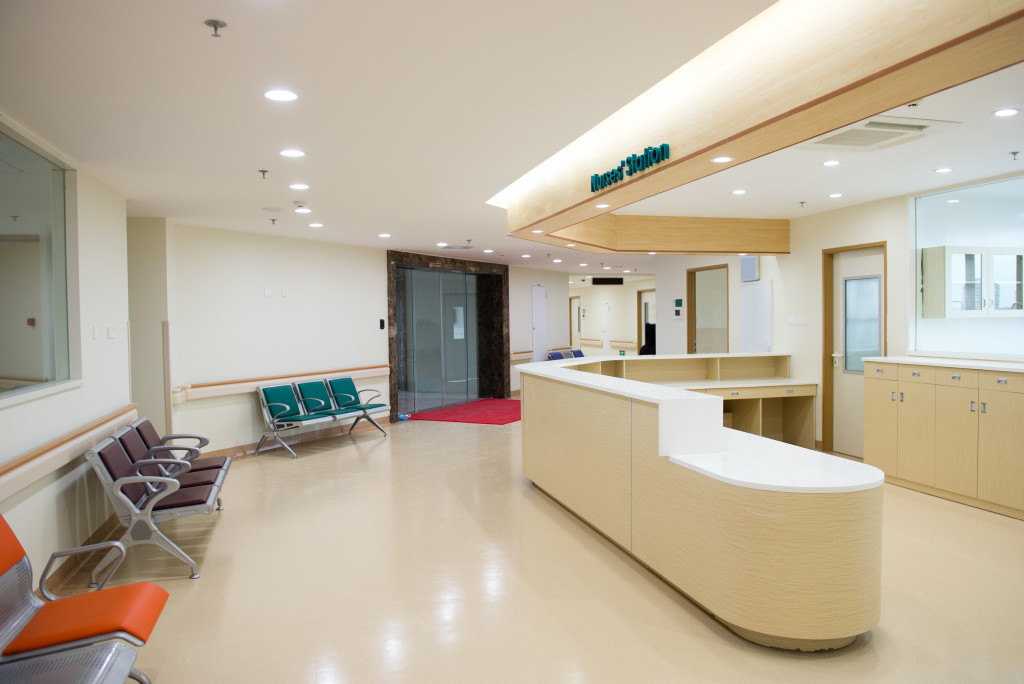 Certain equipment is more prone to causing accidents than others if they are not properly maintained. For example, syringes and other medication injection devices should be kept inside containers at all times so that they will not cause injuries to people who handle other things inside the facility.
It is also important to regularly inspect all medical devices for signs of wear and tear. Some older equipment is likely to break down when used, causing them to malfunction or injure patients who use them. If there are no indications that you can repair an old device again, it is best to replace it with a new one rather than use it.
Regular Training
We should attend training sessions to improve skills and learn about new procedures and techniques. Training also allows us to learn about the latest safety and security protocols to keep our facility safe for everyone.
It is also important to train new employees on following safety protocols, and it also helps if we share information with them about what we know. Training should be done at least once a year to ensure that our employees are competent on the latest safety guidelines.
We should also check on compliance by conducting audits to prevent injuries caused by negligence.
Standard Operating Procedures for Each Department
We should have a standard operating procedure for each section of our healthcare facility to ensure their safety.
In the medical department, standard operating procedures can include ensuring that all equipment is put away properly after use. It also provides sterilization procedures and security measures to prevent drug theft or medication errors.
In other departments, protocols are enforced to ensure that procedures are followed when running different tasks. You should review these procedures from time to time to ensure that they are up-to-date and relevant.
Reviewing Policies and Procedures
We should make an effort to check procedures and policies about safety to improve our healthcare facility's practices.
We should follow a given set of rules and a standard operating procedure for best practice. We can also ask our administrator or manager for guidelines that will help us better perform our tasks.
It is also good to regularly check policies on safety and security to make sure that we're up-to-date on the latest requirements.
To sum up, there are different ways to maintain safety in our healthcare facilities. By making sure each practice is followed, and regulations are enforced, we can prevent injuries from happening to patients and employees.