As the world becomes increasingly digital, more and more businesses are moving online. Making the transition from a brick-and-mortar business to an online one can seem daunting, but it doesn't have to be. And with the right tools in your arsenal, you'll be able to take your business to the next level.
Here are a few fundamental essentials you'll need to make a successful transition to an online business:
Computers and other devices
Of course, one of the most important things you'll need to have when making a transition is to make sure you have the right technology in place. Computers and other devices are essential for any online business. They provide a way to connect with customers and clients, process transactions, and manage your day-to-day operations.
Investing in a quality computer or laptop is a wise decision. It will make it easier to stay productive and efficient. But if you're looking to save money, you can also consider buying used devices. However, you have to check that they're in good working condition before purchasing.
In addition to a laptop or desktop, you might also need a tablet or smartphone. These days, it's crucial to have access to your business anywhere, at any time. A smart device will allow you to manage your business on the go, whether you're at a client meeting or running errands.
A strong internet connection
If you want to run an online business, you'll need a reliable internet connection. After all, if your website is down or your email is inaccessible, it can impact your ability to do business.
You can do a few things to ensure a strong internet connection. Consider using a wired connection instead of Wi-Fi whenever possible. It will provide you with a more stable connection. Then, make sure you're using a high-speed internet service. And suppose you live in an area with spotty service. In that case, you might want to consider investing in a backup internet connection, like a satellite dish or mobile hotspot.
Although it might come as a significant investment, having a solid internet connection is crucial for any online business that will affect your bottom line.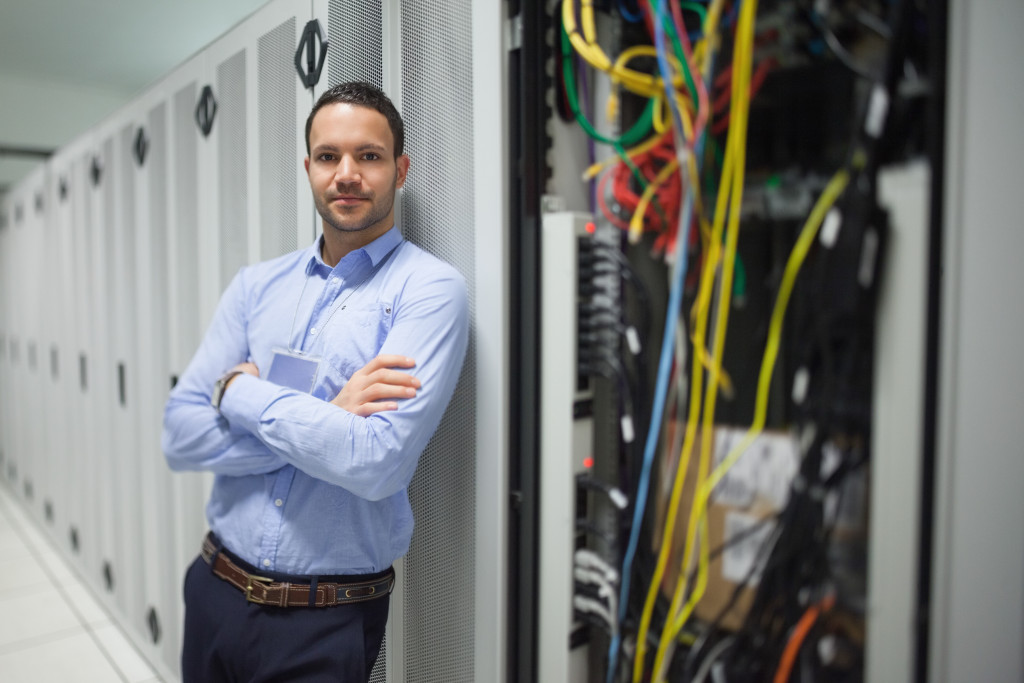 Dedicated data center
For an online business to be successful, you need to have a place to store all your data and files. After all, if your website crashes or your computer fails, you'll lose everything if it's not adequately backed up.
That's why it's crucial to have a dedicated data center for your business. A data center is a facility that houses your computer systems and associated components, such as storage systems and telecommunications equipment.
Investing in a data center will ensure that your business can withstand any unforeseen disasters. Plus, it will give you peace of mind knowing that your data is always safe and sound.
You should also purchase cooling units for your data center and a UPS (uninterruptible power supply) to protect your equipment from power surges. This way, you can be confident that your business will always be up and running, no matter what happens.
Security systems
Especially if you're selling products or services online, it's crucial to have security systems to protect your business. After all, if your website gets hacked or your payment information is compromised, it could cost you dearly.
So, it's best to be proactive and invest in security measures, like a firewall and antivirus software. You might also want to consider using a secure payment gateway for transactions. This way, you can ensure that your customers' information is always safe.
And since data breaches are becoming more common, you should also have a plan for what to do if your business gets hacked. This way, you can minimize the damage and get back up and running as quickly as possible.
Customer support
Customers are the lifeblood of your business, and if they're not happy, you won't be in business for long. So, it's essential to offer excellent customer support.
One way to do this is to have a dedicated customer service team. This team can handle customer inquiries, whether they're via phone, email, or live chat. They can also help resolve any issues that might arise.
Another way to provide excellent customer support is to have a robust FAQ section on your website. This way, customers can find answers to their questions without contacting customer service.
And finally, you should always be available to answer any questions or concerns your customers might have. Whether you're available by phone, email, or live chat, you're always responsive to your customers' needs.
While there are many other tools you might need for your online business, these are some essentials that will help you get started. Before launching your business, remember to have everything in place, from technical devices to digital tools. This way, you can be sure you're set up for success.