Losing a loved one can be the most painful experience anyone can go through. You can just imagine how much sorrow has been felt by countless families all over America as the virus took its toll on the country. With over 34 million Americans infected and over 600,000 dead, the amount of emotional distress and mental stress all these have brought forward is beyond words. It can certainly be a game-changer.
But grieving for a loved one takes a different meaning when that person grieving is your employee. You could be asking yourself how do you support such a subordinate in the most painful part of his life? As a business leader, you could be caught off-guard by the situation, flat-footed.
And yet, this is one defining moment for your company. By being able to attend to a grieving employee, you are sending the message to everyone that your company takes care of its workers. Handling this right, therefore, shows everyone that you're a leader truly capable of dealing with change no matter how painful.
The good news is you can actually minimize grief's impact on your workplace. Putting yourself in the shoe of your grieving worker should be a good start. Plus, listed below are expert takeaways to guide you in helping an employee go through one of life's most challenging realities.
Communicate with the Employee
As a business leader, you also need to practice emotional leadership. And that can mean showing empathy for someone's loss. So waste no time, as soon as you've been informed, contact the worker directly and:
Show them your support.
Express your timely condolences
As much as possible, you should deliver your message in person. As delicate as the topic of loss is, a personal touch is paramount. If talking in person is not possible, then giving him a call would be best.
Be careful though. It's important you get the right message across. Your goal is one of assurance telling him you care for him as a person. That means you have to be genuine. If he thinks you're just concerned about his probable absence and what it will do to your company's productivity, you're off track.
It's, therefore, important that you give the employee ample space, so he can focus and face the personal crisis he's facing.
Added to this, you need to be strategic. Factor ways how the grieving employee's workload can be absorbed by the rest of the team. Calling a meeting with his team would be wise while at the same time you should alert HR of his status.
However, don't overstep your bounds. Unless the employee explicitly requests, there's certainly no need to broadcast the whole news and divulge personal details. Leave it to the worker to share news of his loss to his colleagues.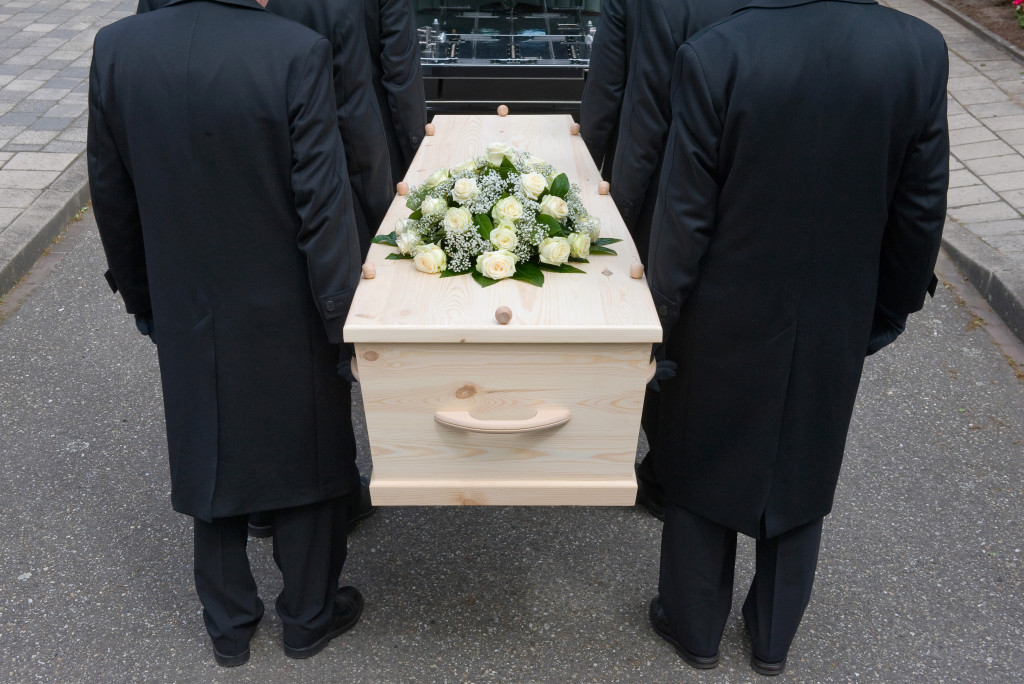 Give Him a Bereavement Leave
Is it your company's policy to grant a bereavement leave? If you don't have such a rule, you may have to consider granting him one. Not giving him one will certainly appear rude to your company and bad press for the whole workforce.
Giving a bereavement leave is:
An opportunity for your company to show it cares for all its members
Timely for the grieving party
A chance for the employee to take care of his personal loss. 
Taking care of a loved one who died is a tall order, especially during the time of the virus. You'll have to plan the funeral service, deal with various estate issues and ensure that the burial services run smoothly.
It's the reason why many Americans have come to appreciate the comprehensive bereavement support given by top hospice and palliative care institutions in the country. With meticulous planning, they are able to give needed assistance to grieving friends and family members of their patients in the most seamless of ways. In the process, these institutions show how much they truly care.
Usually, it's standard for companies to give a bereavement leave. However, you'll have to figure out for yourselves what time duration is best, given your company's resources. But in general, three up to five days off is common.
Also, you must specify that bereavement leave is only available when grieving for immediate family members such as:
Children
Spouse
Parents
Grandparents
Siblings
Other relations than that may not be as applicable. If you don't want to appear arbitrary, make sure you have the rules on your bereavement policy stated clearly in your employee handbook. Doing so will ensure you won't go through tough times when an employee is grieving.
Occasionally, however,  you may have to bend some rules. Sometimes, the passing of a close friend can be a grave loss to someone.
Exercise Patience Once He Returns to Work
Once your employee gets back to work, extend some courtesy. At the very least, be patient and learn to accommodate him.
The goal here is to help him recover from his loss. A good way to do that is to make available an employee assistance program. It could come in the form of counseling with a qualified counselor.
Plus, you should maintain an open-door policy so the grieving employee can discuss issues should they arise. Grieving is hard but it can be a way for you to show how your company truly cares. In the process, you acquire loyalty and an employee that will probably stick with you for a lifetime.